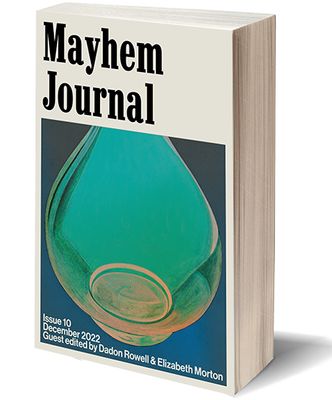 Mayhem 2022 | Issue 10
$27.00
Guest edited by the glorious duo of Dadon Rowell and Elizabeth Morton, this soft-bound A5 copy of Mayhem Literary Journal 2022 | Issue 10 features work from diverse and exciting writers from across Aotearoa New Zealand.
It's been a rocky year, so we're extremely grateful for the generosity of contributors and friends of Mayhem who have donated funds for this issue and helped us bring our journal into print.
The sale price of each issue reflects the cost to bring this bumper issue into production, including a free copy to each published contributor – it's our small way to pay back the wonderful writers who make this journal possible.
Buying this limited print issue supports local creatives, Aotearoa New Zealand writing and Mayhem Literary Journal.

Featuring the stellar work of:
Aimee-Jane Anderson-O'Connor
'Ailine Vakasiuola
Brent Cantwell
Bronte Heron
Catriona Britton
Chrys Anthemum
Claire Orchard
Clare Riddell
Claudia Jardine
Conor Doherty
Danny Bultitude
David Simes
Duncan Eddy
Eliana Gray
Ella Quarmby
Ellis Ophele
Emer Lyons
Erena Shingade
Erin Ramsay
essa may ranapiri
Esther Cohen-Goh
Ethan Christensen
Feana Tu'akoi
Gillian Adsett
Grace Prodanov
Hattie Salmon
Hayden Pyke
Hollie Taylor
Imé Corkery
J. Wiremu Kane
Jeff Taylor
Jeni Curtis
Jessica Howatson
Jessica Miku
Jessie Burnette
Jñāna Coté Benge
John Allison
John M. Dichi
Johnny Coromandel
Josiah Morgan
Kim Pears
Lauren Roche
Leah Dodd
Liam Hinton
Liam McBreen
Lily Stelling
Loren Thomas
Loretta Riach
Lucy O'Connor
Marina Ralph
Mark Prisco
Mary Raleigh
Melanie Allison
Melissa Oliver
Michael Hall
Paula Harris
Peter John Graham
Phillida Perry
Phoebe Robertson
Rachael Elliott
Rachel Lockwood
Rebecca Sandlant
Rebecca Ball
Rebecca Hawkes
Roman Sigley
Rowan Taigel
Sara Al-Bahar
Sarah Penwarden
Shivani Agrawal
Sian Alexia
Sophia Wilson
Sophie Rae-Jordan
Tim Wilson
Tony Beyer
Tyla Bell
Vicky Curtin
Wes Lee
Zachary Hing
and cover art by Eliza Webster
SKU: 100122210