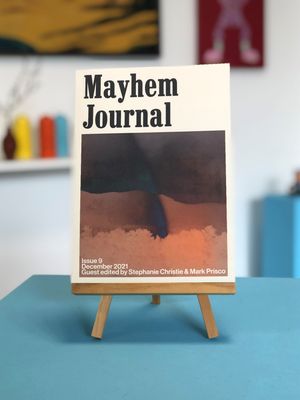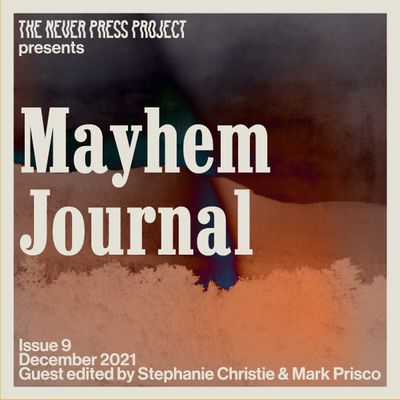 Mayhem 2021 | Issue 9
$20.00
Guest edited by the wonderful Stephanie Christie and Mark Prisco, this soft-bound A5 copy of Mayhem Literary Journal 2021 | Issue 9 features work from diverse and exciting writers from across Aotearoa New Zealand.
We've gone all out this year. Printed and bound in Frankton, Kirikiriroa/Hamilton, this issue of Mayhem is once again printed on 100% FSC-certified paper – and we've also ensured that the entire printing job is, for the first time, carbon zero certified.
The sale price of each issue reflects the cost to bring this bumper issue into production, including a free copy to each published contributor – it's our small way to pay back the wonderful writers who make this journal possible.
Buying this limited print issue supports local creatives, Aotearoa New Zealand writing and Mayhem Literary Journal.
Aroha nui,
Mayhem x
Featuring
Shivani Agrawal
Sian Alexia
Aimee-Jane Anderson O'Connor
Maia Armistead
Carrie Cornsweet Barber
Tony Beyer
Victor Billot
Lara Brownie
Danny Bultitude
Jessie Burnette
Ethan Christensen
David Čiurlionis
Rosie Copeland
Imé Corkery
J. Coté
Molly Crighton
Vicky Curtin
Eli Dawson
Leah Dodd
Katie Dunbier
Duncan Eddy
Annette Edwards-Hill
Eliana Gray
Angela Halie
Aradhana Hamilton
Paula Harris
K-t Harrison
Bronte Heron
Liam Hinton
Lily Holloway
Isabella Howarth
Jessica Howatson
Evie Howell
Hayden Hyams
Lincoln Jaques
Eefa Jauhary
Pippi Jean
J. Wiremu Kane
Hebe Kearney
Erik Kennedy
Anthony Kohere
Wes Lee
Kira Lees
Hun Lynch
Allan J Manson
Abigail Marshall
Liam McBreen
Jo McNeice
Terry Moyle
Claire Orchard
I. K. Paterson
Jane Paul
Kim Pears
Sarah Penwarden
Toakahu Pere
Phillida Perry
Meché Phillips
Hayden Pyke
Sophie Rae-Jordan
Mary Raleigh
Erin Ramsay
Kay Ramsbottom
essa may ranapiri
Vaughan Rapatahana
Anna Reed
Phoebe Robertson
Bianca Rogers-Mott
Dadon Rowell
Rachel Sawaya
Grace Shelley
Nigel Skjellerup
Michael Steven
Sarah L Taggart
Rowan Taigel
D.A. Taylor
Feana Tu'akoi
Siobhan Kahu Tumai
'Ailine Vakasiuola
Susan Wardell
Sophia Wilson
Tim Wilson
Eva Wyles
Angela Zhang
SKU: 10012219