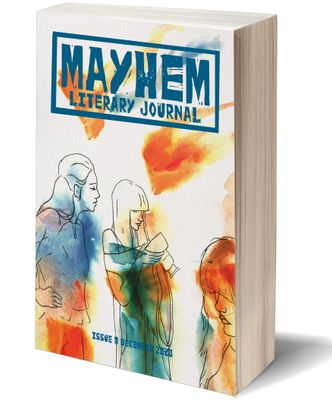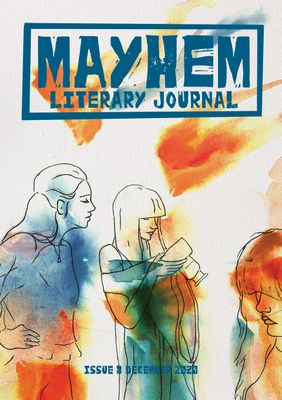 Mayhem 2020 | Issue 8
$20.00
Out of stock
I am again reminded that poets are broken people braving a broken world, and that ultimately it is the bravery of expression in their songs and poems that allows both their makers, their readers and listeners, to transcend the exigent difficulties of our contemporary life.
- Michael Steven, Mayhem 2020 | Issue 8
Guest edited by the luminous Michael Steven, this soft-bound A5 copy of Mayhem Literary Journal 2020 | Issue 8 features work from diverse and exciting writers from across Aotearoa New Zealand. This issue also includes work by Sargeson prize winners, as sponsored by the University of Waikato.
Mayhem 8 is once again printed on carbon neutral, 100% recycled FSC paper, and is packaged in reclaimed and recycled products where possible before delivery.
The sale price of each issue reflects the cost to bring this bumper issue into production, including a free copy to each published contributor – it's our small way to pay back the wonderful writers who make this journal possible.
Buying this limited print issue supports local publishers, Aotearoa New Zealand writing and Mayhem Literary Journal.
Aroha nui,
Mayhem x
Featuring:
Shivani Agrawal
Tiffany Allan
Ian Andrews
Maia Armistead
Helen Ballinger
Tony Beyer
J E Blaikie
Catriona Britton
Jessie Burnette
Ellen Morgan Butler
Janet Charman
Madeleine Child
David Čiurlionis
Imé Corkery
David Coventry
Elijah Dawson
Duncan Eddy
Rachael Elliott
Sally Franicevich
Jasmine Gallagher
Miriama Gemmell
Michael Hall
Jordan Hamel
Matthew Harris
Paula Harris
Jenna Heller
Zoë Higgins
Liam Hinton
Marcus Hobson
Chris Holdaway
Lily Holloway
Hayden Hyams
Gail Ingram
Amelia Isac
Lincoln Jaques
Eefa Jauhary
Pippi Jean
Barney Johnson
Anthony Lapwood
Wes Lee
Kira Lees
Leila Lois
Sophie MacDonald
Mary Macpherson
Zoë Meager
Layal Moore
Josiah Morgan
Nithya Narayanan
Emma Neale
Airana Ngarewa
Siân Norris
Keith Nunes
Jilly O'Brien
Leeanne O'Brien
Claire Orchard
Robyn Parks
Kimmy Parsons
Sarah Penwarden
Phillida Perry
Susy Pointon
Mark Prisco
Hayden Pyke
essa may ranapiri
Vaughan Rapatahana
Richard Reeve
Robert Rinehart
Phoebe Robertson
Brittany Rose
Dadon Rowell
Naomii Seah
Avinash Sen
Elizabeth Smither
Erica Stretton
Jasmine O M Taylor
Michaela Tempany
Loren Thomas
Joy Tong
Rhegan Tu'akoi
Jill Varani
Laura Williamson
Sophia Wilson
Sue Wootton
Annetta Zelley
SKU: 10012208